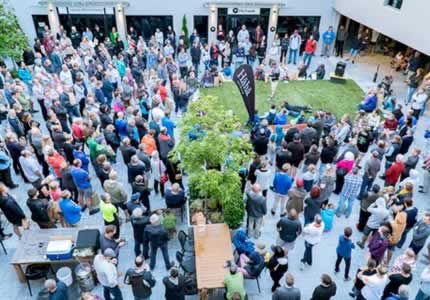 Do I have to be an expert mountain biker? NO (though please practice riding off road before the event)
What type of bike can I ride? Any bike you like! However, a full suspension bike is recommended, many participants choose to ride a hardtail. We don't recommend a downhill style bike or a skinny tyre bike. However, one or two participants have been known to race Triple Peaks on a cyclocross bike!
Can we put 2 people in to the 3 person relay team? YES, please identify the name of each person doing each leg when registering.
Is there a cutoff time/s? Yes. There will be three cutoff times. Two being at Transition (before the start of Leg 2 and Leg 3). Leg 2 cutoff will be 3 hours (10.30am) and Leg 3 cutoff will be 7 hours (2.30pm). The final (Finish Line) cutoff will be 10 hours. If a competitor does not reach the area's by these times, they will be transported to the finish line (if you are a solo competitor who has entered 3 peaks, your time will be moved in to either the 1 or 2 peak categories accordingly).
How do we use the timing transponders? The timing transponders are straps that go around your ankle. They are waterproof and very simple to use.
Is there water and food available on the course? There will be water and fruit on the summits and at the river transitions (an Aid Station with food and water) but please treat these as back ups of your own supply. Please carry sufficient water. We highly recommend that you carry an electrolyte solution and nutrition, and if you are doing it solo that you encourage a friend to support you at the transitions.
Are there toilets on the course? Yes, toilets are on the course at the transition point at Rochfort Road, as well as the event start/finish.
Are there River crossings? Yes, there are a couple of river crossings and there will be marshals on the crossings to assist. If you are nervous to cross, please go across with others, as a group. The following link has some good information from the Mountain Safety Council in regards to crossing rivers. Click HERE. The height of the river will always depend on the amount of rain during that period but we always try to find the safest and shallowest possible crossing.
What happens if the river is too high to cross? The contingency plan will be ready to go should we be unable to cross the Tukituki River. Plan B is to go up and down Mt Erin twice on 4 different routes of which the access road will be used only once. If needed this will be a really good fun route, and will be on trails never experienced before. Following the descent to the Tukituki River, we will proceed on the western side of the river to Te Mata Peak, where we will continue the course as detailed above, and then back to the Village.
Will there be a Bag Drop option for all entrants? Yes, this will be made available. Details to be confirmed in email communications leading up to the event.
Is there a compulsory gear list? No, there is not (and there is no gear check the night before) but we do strongly recommend taking gear to suit changes in weather, with adequate water and nutrition, and sun protection. The weather can change quickly on the course, and you must be prepared for this.
Will sunscreen be available on the course? There will be a limited amount of sunscreen available at the start/finish and the transition point at Rochfort Road. However we do advise that you take a small sachet of your own, if you feel you will require it.
Are electric bikes permitted on the course? Electric bikes are permitted on the course, (strictly under 300 watts) and do have their own category. Please ensure you are comfortable with crossing the river and riding rough terrain if you wish to embark on this challenge with an e-bike.
What is your Withdrawal, Cancellation and Refund policy?
DUE TO PERSONAL CIRCUMSTANCES:
Competitors will receive a full refund less a $20 admin fee if we are notified of their inability to compete by midnight 29 January 2023.
Refunds after this date until midnight 5 February 2023 will be reimbursed at 50% entry fee.
There are no refunds from midnight 5 February 2023 until race day.
Entries cannot be deferred to other years.
If you wish to make changes to your entry (e.g. change of name or other alteration), a $20 admin fee MAY apply. You must inform the Event Directors of any changes or withdrawals. This policies are applicable in ALL circumstances, please do not ask for exceptions.
DUE TO COVID-19:
In the event of the event being cancelled due to Covid-19 competitors would receive a refund of:


Up to 4 weeks to the event date (up till midnight 29 January 2023) will receive an 80% refund.
Up to one week before the event date (from midnight 18 February until midnight 24 February 2023) the event date will receive a 40% refund. Any event tees ordered will be distributed.

What is your Covid-19 Policy? Please view our Covid-19 policy HERE.
What are your Terms and Conditions? Please view our T&Cs HERE.